Download the DispatchExpress request care guide
---
1. Login to your DispatchExpress account
Visit express.dispatchhealth.com to log-in to your account.
If you don't have an account, you can request one at dispatchhealth.com/dispatchexpress.
---
2. Once logged in, select request care
Click the red request care button in the top right corner of your screen.
---
3. Enter the patient
Select source then search for the patient.
---
4. If the patient does not appear in the search, select create new patient
Input the patient's address into the address field. If the patient resides outside of one of our serviceable markets a message will pop up and other accommodations for that patient's care should be made.
If your patient resides in a serviceable market, you will see a green check mark appear confirming this.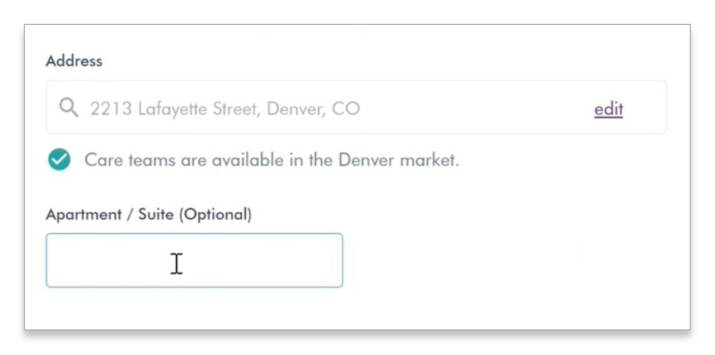 Be sure to include any pertinent information about the patient's location, such as directional markets, where to park, gate codes, if they live inside a retirement home, etc. then click continue.
Input the patient's name and demographic information and click continue.
In the Plan drop down, you'll be able to see a full list of insurance types that are considered in-network with DispatchHealth. If your patient's plan is not listed, please select self-pay. The self-pay cost is $275. If their insurance plan is listed, select it and add in the member number in the appropriate box, then click Continue.
If you do not know the patient's insurance information, please select Insurance Unknown under Policy Holder and our team will collect that information from the patient when we call them to continue onboarding.
On the next screen, input the patient's Medical Power of Attorney information, then click continue.
---
5. Finalize and submit your care request
Select the type of care your patient needs under the drop down labeled, Service Line. Include details regarding their Chief Complaint (fever, UTI, stuffy nose, etc.) in the box below that. If you have a Bridge Care patient, please be sure to add their discharge date and diagnosis. For all care types, be sure to include a callback number.
To submit, click Submit Care Request.
Let the patient or person you requested to be called back on behalf of the patient know to expect a call from DispatchHealth. DispatchHealth will quickly risk stratify to make sure the clinical scenario is appropriate to treat and obtain verbal consent for our visit. During this call, the visit time will
be scheduled.
---
6. Follow updates on the visit
Your request has now been submitted and will show in your dashboard and you'll be able to track the patient's care path, by clicking "Show Details."
To view past case records, click "View Past Care Records."
Download the DispatchExpress request care guide
---