Healthcare is moving into the home – are you?
Watch webinar below
Learn how leading health systems are treating 1,000's of patients at home by right-sizing care using innovative high-acuity care at home strategies
| | |
| --- | --- |
| Time | Duration |
| On-demand | 1 hour |
In the current environment, health systems are focused on strategies to improve their financial performance and address staffing challenges. By leveraging new delivery models that move care to the home and right-size care, top health systems are freeing up capacity for the patients that need hospitalization while increasing revenue.
Join AdventHealth, Texas Health Resources, University of California Health System, and DispatchHealth, for a panelist discussion on a unique approach to moving care into the home for patients with chronic medical and social needs.
Learning points:

Recognize how leading health systems have challenged the status quo through collaborations to extend the system's service lines without adding complexity.

Explore the opportunity to provide care at home both pre and post-hospitalization, while offering a differentiated patient experience in a competitive market.

Explain the positive impacts of care coordination from in-home treatments back to the patient's established care team, to help engage and retain patients.
---
Presenters:
Winjie Tang Miao
Sr. Executive Vice President - Chief Operating Officer, Texas Health Resources
Winjie Tang Miao serves as senior executive vice president and chief operating officer, charged with evolving core channel services with an emphasis on aligning channel activities to achieve strategic, clinical and operational results. Reporting to her are leaders focused on the Hospital Channel and Texas Health Physicians Group, as well as the Reliable Health dyad, the chief medical officer and chief nursing officer charged with driving Texas Health's clinical performance.
Miao stepped into the COO role in March 2022 after previously serving as chief experience officer.
Miao joined Texas Health in 2000 as an administrative resident at Texas Health Presbyterian Hospital Dallas. While there, she oversaw the development of more than $500 million in construction and the growth and development of outpatient clinics and the oncology service line. In 2007, she was named president of Texas Health Harris Methodist Hospital Azle, and in 2011 she became president of Texas Health Harris Methodist Hospital Alliance. Under her leadership, Texas Health Alliance opened in 2012, and has continually received national recognition for its advances in health information technology, offering patients advanced interactive and digital equipment. Miao became Texas Health's senior vice president of System Integration and Innovation in 2015 and was instrumental in efforts including Reliable Care BlueprintingTM, the health system's approach to care design, creating a reliable, quality experience in every consumer encounter.
A biomedical engineering graduate of Johns Hopkins University, Miao also earned a master's degree in health care administration, with a concentration in financial management and quality management, from the University of North Carolina at Chapel Hill.
In 2013, she was honored with the Outstanding Achievement Award from the US Pan Asian American Chamber of Commerce-Southwest Region. She has been named by Becker's Hospital Review as one of the "130 Women Hospital and Health System Leaders to Know" (2015) and "25 Healthcare Leaders Under Age 40" (2012). In 2008, she was honored as one of Modern Healthcare magazine's "Up and Comers."
---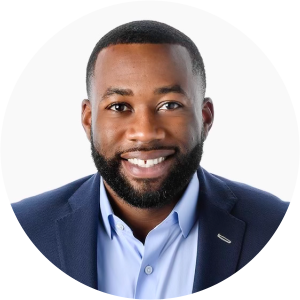 Nick Archer
Vice President, Ventures Operations, AdventHealth
Nick Archer is the Vice President, Operations for AdventHealth Ventures. In this role he leads the build of new businesses focused on accelerating the organization's risk-bearing capabilities. His 18-year career at AdventHealth has spanned leadership in product development and innovation, strategy and financial operations.He earned a bachelor's degree in finance from Oakwood University, a master's degree in business administration from the University of Florida and completed the Harvard Business School Executive Education Launching New Ventures program. A longstanding advocate of community outreach, he serves on the boards for Andrews Memorial Hospital, United Against Poverty and as the Chair of the Oakwood University Alumni Council. In his spare time, he enjoys time with his sons, cycling and CrossFit.
---
Susanna Rustad
Chief Procurement Officer and ED of Virtual Care, UCI Health
Susanna Rustad serves as the Chief Procurement Officer and Executive Director of Virtual Care at UCI Health. She is a healthcare transformation leader with 20 years of industry experience leading large scale, dynamic organizational change in high reliability, publicly traded Fortune 16 and top ranking academic medical center environments. Under her leadership, UCI Health has accelerated to rank 4th in the nation for Supply Chain Operational Excellence, securing its seat at the Global Healthcare Exchange (GHX) Best 50 Honors consistently over the last 3 years of her 5-year tenure.
Susanna holds a BA in Economics from the University of California in Los Angeles and an MBA (healthcare specialization) with an emphasis on strategic leadership for a digitally driven world from the University of California in Irvine, Paul Merage School of Business. Her expertise as an operations leader manifests in the form of deep in the trenches hospital and healthcare industry knowledge gained through her collaboration with over 100 US healthcare systems including academic, for-profit, not-for-profit, VA, Department of Defense (DOD), and Indian Health Services. Her broad spectrum of competencies traverse beyond the hospitals' four walls (Ambulatory Care, Distribution, GPOs, Manufacturers, and Purchased Services), which provides her with a healthy regard and appreciation for the end-to-end complexities of healthcare. Her most recent adventure includes spearheading the creation, implementation, vision and roadmap for a continuum of healthcare "At Home" through innovative virtual and digital care solutions.
---
Dave Dookeeram, FACHE, FHM
Executive Vice President and Chief of Staff, DispatchHealth
A recognized entrepreneurial healthcare executive, Dave Dookeeram has over 20 years of diverse leadership experience in medical group management, hospital operations, healthcare technology, and management consulting.
He joined DispatchHealth as a seed-stage executive and for three years led the company's growth through the first 20 markets, to $40 million in revenue and top decile employee and patient satisfaction scores. Today, Dave serves as the organization's executive vice president and chief of staff and is working to scale DispatchHealth into the world's most extensive care system in the home.
Dave is board-certified in healthcare management and holds a master's degree in healthcare administration and policy from Emory University and a bachelor's degree from Dartmouth College. Before DispatchHealth, Dookeeram served as the chief operating officer of Centura Health's Porter Adventist Hospital - he drove profitability from $7 million to $42 million in four years and attained national ranking in multiple specialties.
He serves on the Board of Directors of Christian Living Communities/Capella Living Solutions. He is a fellow of both the American College of Healthcare Executives and the Society of Hospital Medicine. Dave has also co-authored multiple research papers and has spoken on a range of healthcare topics nationally and internationally.
---
About DispatchHealth
DispatchHealth brings the power of the hospital to the comfort of home™
DispatchHealth works in conjunction with health systems, provider groups, senior living communities, home health organizations, payers and employers to provide a comprehensive spectrum of healthcare services, ensuring that most patients with acute, intensive, or chronic health conditions can receive exceptional and cost-effective medical care at home. We provide top-rated, high-acuity healthcare for medically complex patients in their home.
Patients can also contact DispatchHealth directly by phone, app or website. DispatchHealth is partnered with most major insurance companies.