Do you remember house calls? They're back. Many seniors remember doctors making house calls. Old TV programs regularly showed the family doctor coming by to visit a bedridden patient. House calls are back, with a decidedly 21st century approach. And the trend is growing.
DispatchHealth provides urgent care services in the convenience of one's home, as well as offering seasonal care prevention and protection. The company is a pioneer in the urgent care industry that is growing rapidly across the country.
Upon contacting DispatchHealth via phone, easily-installed app or online, seniors can typically expect in-home care within a few hours. That team includes a nurse practitioner or physician assistant, along with a DispatchHealth medical technician (DHMT). They're available to treat urgent medical needs spanning a variety of ailments including respiratory, digestive and skin infections, minor trauma (sprains, minor breaks), lacerations, nosebleeds, asthma attacks, allergic reactions, vomiting, diarrhea/constipation, dehydration difficulties and more.
This is part of a growing trend toward in-home care across the healthcare spectrum.
DispatchHealth's house calls offer seniors benefits addressing five of the biggest concerns this growing group has about healthcare today:
1. Turnaround Time
The time it can take to reach healthcare services outside the home, then wait to be seen can be a major hardship for seniors. DispatchHealth's in-home care system averages a total of two to three hours from the time of first contact until treatment is completed (house call visits average 55 minutes with senior patients, ensuring adequate time to do a thorough diagnosis). When calling to schedule a visit, patients will receive an expected arrival time estimate. And time-of-day availability goes well beyond typical office hours, with most locations open throughout the day well into the evening, and on weekends and holidays.
2. Cost
Seniors on fixed incomes or with limited resources will appreciate a clear and affordable cost structure. DispatchHealth accepts most insurance, and typical out-of-pocket costs with insurance/Medicare range from $6-$45. For the uninsured, DispatchHealth accepts a flat rate of $375 at the time of treatment via credit card. Senior cost savings is reflected in a
USnews.com report stating, "
A study last year in the Journal of the American Geriatrics Society found that
Medicare costs among 722 elderly patients in a house call program were $8,477 less on average per person than costs among a group that didn't receive house calls over two years. The house call group also had 9 percent fewer hospitalizations, 10 percent fewer emergency department visits and saw specialists 23 percent less."
3. Convenience and Comfort
Seniors challenged by mobility and transportation obstacles can stay put. There is no need to get to a hospital, doctor's office or other treatment center. This becomes even more important in inclement weather, when anxiety and fear can result in doing nothing at all because of the perceived problems tied to accessing care out of the home. As a big bonus, especially during flu and fever season, exposure to sick people is eliminated.
4. Confidence
Along with cost, confidence in quality and timely care are big issues for seniors. Sadly, there are many stories about seniors receiving inadequate or incomplete care. From the outset, DispatchHealth works to instill confidence. It starts with a straightforward assessment before anyone is dispatched. If there's doubt, suggestions will be made about other options. Once a request is screened and approved, a medical team including a DispatchHealth medical technician (DHMT) and board-certified nurse practitioner (NP) or physician assistant (PA) heads out. This team always is supported by an on-call emergency room physician. DispatchHealth's Net Promoter Score (NPS) averages +94 on a scale of minus 100 to plus 100. This scale, an indicator of how willing customers are to recommend a company's products or services, typically shows an average score of 30 for the healthcare industry at-large.
5. Follow-Up and Follow-Through
Seniors often feel dropped like a hot potato after seeing a healthcare provider. DispatchHealth discusses ongoing care instructions while on-site and provides a detailed report to any involved living facility, home health agency and/or primary care physician if applicable. The report looks at the home to determine such care red flags as fall hazards, nutritional insufficiency and medication compliance problems. This can provide invaluable insights to other care providers and provides a way for a senior's primary care team to match up additional resources to improve the senior's overall health.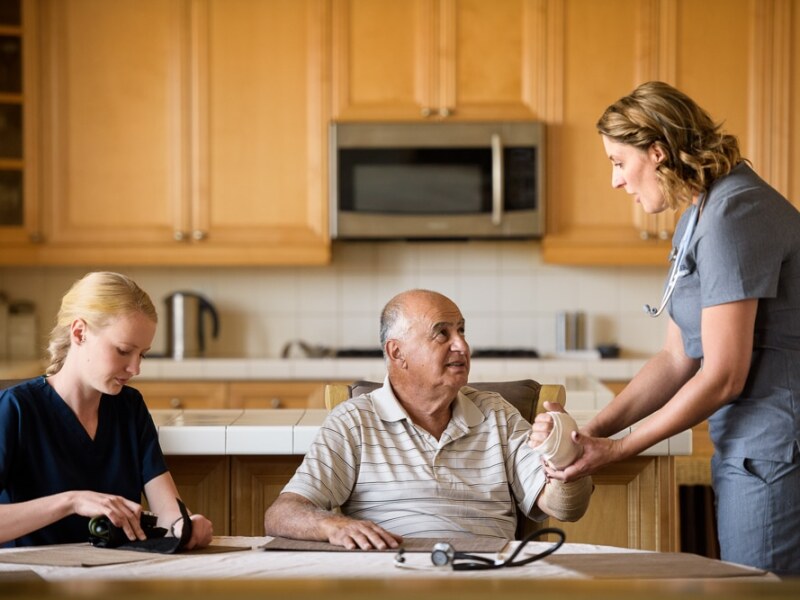 Companies like DispatchHealth are providing a critical link to seniors needing reliable services and wanting to stay in their homes. The American Association of Retired Persons (AARP) named DispatchHealth as its winner of the 2017 Aging in Place $50K Challenge. The Challenge addresses innovations that reduce unnecessary healthcare services, costs and hospital readmission rates while allowing older adults the opportunity to live independently in their homes.
Amid a challenging healthcare environment, chalk up a win with an urgent care house call.