Flu season is fast approaching, and this year, things are going to look a little different due to the
COVID-19 crisis. According to the Centers for Disease Control and Prevention (CDC), the 2019-2020 flu season was severe, with as many as 740,000 flu-related hospitalizations and 62,000 deaths. And this year will likely hit even harder given the double whammy of flu season paired with COVID-19—something that has a big implication for seniors.
The flu, in particular, is devastating for seniors
Seniors are among the hardest hit by flu complications, partly due to changes in the immune system with increasing age. The CDC estimates that between 50-70% of flu-related hospitalizations and a whopping 70-85% of flu-related deaths can be attributed to people 65 years and older.
Flu symptoms that people commonly experience include:
Fever or chills
Sore throat
Cough
Muscle/body aches
A stuffy or runny nose
Most people recover from the flu within a week or two at home, but seniors in particular are at high risk of developing serious flu complications. These complications can be life threatening, including illnesses and ailments such as pneumonia, multi-organ failure, and inflammation of the heart, muscles, and brain. Any senior showing emergency signs of the flu should seek immediate medical attention to avoid developing complications—but what about seniors with mild symptoms? They need to be treated, but according to the CDC, a trip to the emergency room isn't always the best course of action for seniors who are only showing mild symptoms of the flu. That's where DispatchHealth comes in.
A house call can help
At DispatchHealth, we provide convenient, in-home medical care for the flu—and we're taking stringent precautions to keep our patients and staff safe in light of COVID-19.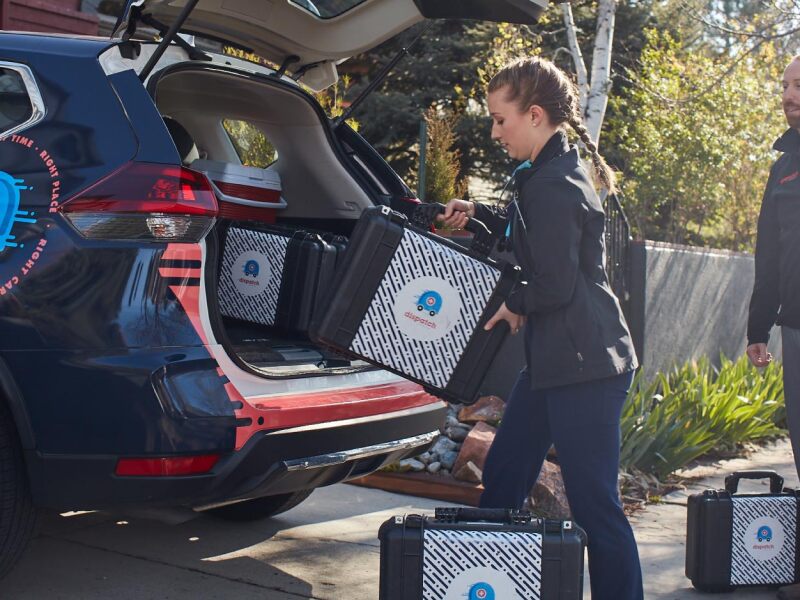 "We want to make it as easy as possible for people who are sick with the flu to get help. Ourmedical teams are capable of treating an array of flu symptoms for higher-need patients living with chronic disease or who are above the age of 65," said Mark Prather, CEO and co-founder of DispatchHealth. "We are also a convenient and affordable solution for patients with trouble accessing care who feel like the ER is their only option."
Seniors with Medicare or commercial insurance generally pay $6-$45 with DispatchHealth—minimizing cost concerns that often are a barrier to getting treatment. And uninsured seniors pay a flat rate of $375. Treatment comes to them instead of having to deal with the hassles of traveling and other obstacles facing the mobility-challenged.
Saving time is another huge benefit of DispatchHealth house calls. Setting an appointment easily and receiving care quickly are two hallmarks of the DispatchHealth model. Initial outreach to make an appointment is done via phone, online, or our app. After contact is made, a clinical evaluation is conducted to make sure that a house call is the best course of action.
Once the appointment is confirmed, DispatchHealth's qualified medical team shows up at a patient's door within a couple of hours. The team spends an average of 55 minutes with the patient to thoroughly diagnose and treat conditions and make recommendations as warranted.
All of this adds up to top-notch treatment that fully addresses all concerns and provides reliably professional care. So no matter if it's a common cold, a nasty bout of the flu, or even pneumonia, instead of driving to the clinic, have the clinic drive to you.
Sources
DispatchHealth relies only on authoritative sources, including medical associations, research institutions, and peer-reviewed medical studies.
Sources referenced in this article: